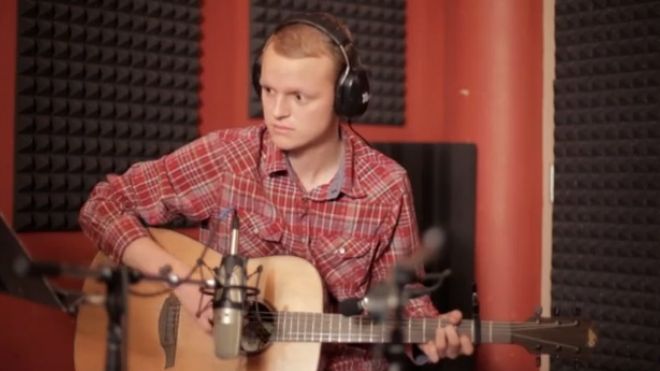 A Minnesota teenager whose farewell song "Clouds" became an Internet sensation with nearly 3 million views on YouTube died Monday after battling a rare form of bone cancer, his family announced.
Zach Sobiech, of Lakeland, died at his home, surrounded by family and his girlfriend, according to a CaringBridge post by his mother, Laura Sobiech. He was 18.
Zach Sobiech's family declined a request for an interview from the St. Paul Pioneer Press, but released a statement announcing his passing.
"It is with heavy hearts that we announce the passing of our son Zachary David Sobiech. Our family has been blessed not only by his amazing presence in our lives, but also by the love and support of our family and friends and by so many people in the community. In particular we'd like to thank those people who listened with their hearts and helped Zach bring his message and his music to the world," the statement said.
Sobiech began writing songs of farewell to family and friends last fall. His first song, the catchy "Clouds," inspired tributes and covers, including a celebrity video.
Sobiech was told in June 2012 that he had months — perhaps a year — to live. When a scan in October showed about 20 new lesions in his lungs, Sobiech's mother suggested he start writing letters to say goodbye.
"I'm not good at writing letters," Sobiech told the Pioneer Press in December. "So I figured instead, I could just write songs for people, and they might be around longer. It's more powerful than writing a letter because a song can get stuck in your head. You find yourself humming it during the day."
In February, Rock the Cause digitally released Sobiech's album, "Fix Me Up," which he co-wrote with bandmate Samantha "Sammy" Brown, and he flew to New York, where he signed with BMI, a music-rights management company that will collect royalties for him.
Proceeds from the sale of "Clouds" and Sobiech's other songs also are going to the Zach Sobiech Osteosarcoma Fund.
In addition to raising money for the fund in his name at the Children's Cancer Research Fund, Sobiech worked to raise awareness for children suffering from his rare form of cancer.
"Our thoughts and prayers are with Zach's family and friends," said John Hallberg, the fund's CEO. "Zach Sobiech faced his cancer diagnosis with grace and strength. His music touched millions, and he leaves a lasting legacy that will help other young cancer patients through the Zach Sobiech Osteosarcoma Fund. Zach once said, 'You don't have to find out you're dying to start living.' He taught us all how to live, and we are all better for having known him."
Sobiech, who would have graduated from Stillwater Area High School on June 8, received his diploma early — through his family at his house in late April, according to Lind Moncrief, assistant to the principal at the high school. Counselors and support services are available for students at the school.
A funeral Mass will be held at 11 a.m. Thursday at the Church of St. Michael in Stillwater.
source : http://www.foxnews.com/health/2013/05/21/terminal-teen-whose-farewell-song-became-web-hit-dies-cancer/