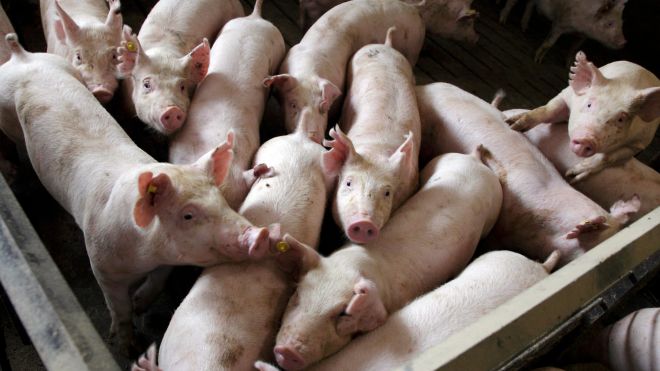 Farms in two of the nation's leading pork producing states have tested positive for the potentially fatal porcine epidemic diarrhea virus (PEDV), U.S. pork industry veterinarian official said Monday.
Three farms in Iowa and one Indiana operation have confirmed cases of the virus, said Dr Lisa Becton, director of swine health information and research for the National Pork Board. The cases in Iowa were located on farms "all across the state, not in one specific area," Becton said.
PEDV does not pose a food safety or health risk to humans and the pork is safe eat. Other animals cannot contract the swine-only virus.
Still, this marks the first time PEDV had been found in the United States, and poises yet another challenge for hog farms still recovering from record-high feed costs from last summer's historic drought.
"The severity of the outbreak is not yet known, but we're hoping to have a better assessment soon," Becton told Reuters.
Iowa is the nation's leading hog producer with more than 20 million hogs and Indiana is No. 5 with 3.65 million, according to USDA.
Agriculture Department officials are pulling together an agricultural epidemiologic survey, and plan to send the questionnaire out to swine veterinarians in the coming days, to try to determine how the virus was introduced into the nation's pork production chain and see how it spread, Becton said.
Swine veterinarians across the U.S. are collecting samples from pork farms that have reported possible cases and sending them in for testing at National Veterinary Service Laboratories and other sites.
Some veterinarians are also sending in samples of animal feed for testing, to see whether the virus was spread that way, said Dr. Keith Roehr, Colorado's state veterinarian.
"There's a lot of biosecurity and prevention measures in place that prevent the spread of disease. That's what's so puzzling in this case. To be in different states, and to have crossed between different swine operations and between different owners, all of which are painstakingly kept separate to prevent the spread of disease - that's unusual," said Roehr.
There is no cure or vaccine for PEDV, which causes diarrhea, vomiting and dehydration in hogs and could result in deaths - particularly in baby pigs whose immune system can be weak. The virus is similar in some ways to transmissible gastroenteritis (TGE) where mortality can range from 50 percent to 100 percent among pigs that are a week old or younger, Becton said.
Older pigs can be affected but will recover in a matter of a few weeks after contracting the disease. There is no effective treatment for PEDV other than good care, warm housing and adequate water to combat dehydration.
Strict bio-security and quarantine measures can help to slow the spread of the virus. PEDV also is sensitive to heat and sunlight, which may help curtail the spread of the outbreak as the weather turns warmer in the Midwest, veterinarians say.
While this marks the first appearance of PEDV in the U.S., the virus dates back to the 1970s. Over the years, it has cropped up on pork operations in England, Canada, China and South Korea and Japan, said Becton.
The U.S. Department of Agriculture's National Veterinary Services Laboratories confirmed it had detected the virus in hog populations in Iowa on Friday, and noted that the disease may have spread to other hog producing states.
The virus is also not expected to threaten U.S. pork exports, said Becton, who explained USDA does not consider PEDV a reportable disease to the World Organization for Animal Health, so no trade restrictions are expected.
Roughly 23 percent of U.S. domestic pork production, which last year totaled 5.383 billion pounds worth $6.322 billion (U.S.) is earmarked for export.
source : http://www.foxnews.com/health/2013/05/21/swine-virus-confirmed-in-iowa-indiana-hog-herds/