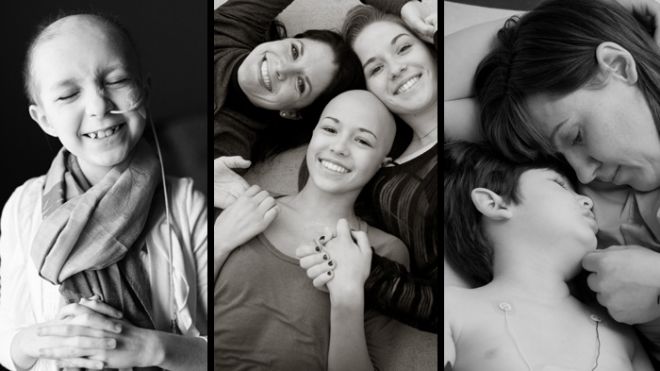 In 1996, Lynette Johnson, a professional photographer, was approached by her sister-in-law Sally Elliot with a difficult request.  Elliot's daughter and Johnson's niece, Lanie, had been stillborn and Elliot wanted Johnson to take a picture of her before her funeral.
"It was the hardest thing I've ever done in my life," Johnson, 59, based out of Seattle, Wash., told FoxNews.com.  "But I'm so glad I did it."
The memory of the experience stuck with Johnson, and a few years later, while shooting pictures for a wedding, the bride mentioned to Johnson that she worked for the palliative care unit at Seattle Children's Hospital.  Johnson immediately thought back to her niece and offered to come by the hospital to take pictures for the patients' families.
"I just blurted out I would do this free of charge," Johnson said. "It seemed like the least I could do to give back to the community."
What started as a small favor quickly blossomed into a thriving non-profit photography initiative called Soulumination.  Through the enterprise, Johnson and other volunteer photographers take professional photographs of children under the age of 18 who are facing life-threatening conditions, providing families with lasting keepsakes and "an enduring, positive record of the child's life."
Initially, Johnson was the non-profit's sole photographer, taking photographs of children in the greater Seattle area.  But since Soulumination's inception, the organization has now grown to encompass more than 40 photographers and over 120 community volunteers, who help serve families across the country.
"We don't just take their photos; they get beautiful handmade albums too," Johnson said. "But every person who is at the shoot gets their own personal one.  The mother even gets a bracelet with the child's photo she can wear."
Johnson has now photographed hundreds of patients, including children with terminal cancer, heart disease, issues stemming from premature birth, Tay-Sachs disease and severe seizure disorders.
When she first started Soulumination, Johnson said many of her friends and family would express amazement at how she was able to surround herself with such grief and pain.  But while it's been emotionally difficult at times, she and the others continue the project without hesitation.
"Once you do it, the sadness and grief in some ways feel almost unbearable, but almost every photographer says, 'Yes, that was hard, but I'll do it again,'" Johnson said.  "There's just no doubt about it; it's the right thing to do."
Johnson said that every family she has worked with has had a positive experience with the photo shoots, and not one parent has ever expressed regret over having pictures taken.  She noted that some families were hesitant to have the photographs done, as they felt it meant they were stepping into the dying process of their children.  However, Soulumination has photographed many children who do survive their illnesses. The photographs are more about honoring the individual than saying goodbye.
"It means a great deal to us all," said one Seattle mother whose daughter has been battling leukemia since 2003.  "Mainly to have the images and see [our daughter's] expressions captured…It gives me a sense of peace to hang her and [her sister's] pictures and make them a part of our world as it is now. So when it changes it will be there."
Soulumination operates purely on outside donations and the unpaid skills of the organization's many photographers.  Johnson said that their work generates a fair amount of monetary contributions from people they come into contact with at the hospital or through photo shoots. She recalled a time when she took photos of a young teenage girl named Sidney, who suffered from a terminal brain tumor.  A few months after Sidney's funeral, Johnson said she received a thick envelope in the mail.
"It was a handmade card from Sidney's mother, and she explains it's from the last time she took an art class with Sidney," Johnson recalled. "There was also a check in there for $1,200, and she said it was Sidney's savings account and she knew she wanted me to have it so we could service other people. We have hundreds of heart felt 'Thank You's' like that."
Johnson vows to keep Soulumination running as long as possible, and she said she has spoken with other photographers interested in starting similar initiatives in other states – and even other countries.  According to her, the project's success must be credited to the many people who have graciously donated their money and talents to help preserve the legacies of so many children.
"I'm proud of it, and I'm unbelievably thankful for the photographers," Johnson said.  "We're a little group that started and has now blossomed into something with national attention. The loss of my niece, which was so devastating, in her memory this thing started that will offer hope to people all over the world."
source : http://www.foxnews.com/health/2013/05/23/soulumination-non-profit-photographs-terminally-ill-children-for-families/