The main symptoms of pulmonary infection are dry or phlegm cough, shortness of breath, rapid and superficial breathing, and high fever lasting more than 48 hours, only with the use of antipyretic medications. 
Lung infection or respiratory infection occurs when microorganisms enter the body through the respiratory tract and remain in the lung, giving rise to symptoms of infection such as cough, sore throat, headache and difficulty breathing. 
The diagnosis is made by the general practitioner or the pulmonologist based on the symptoms and the result of laboratory tests, which indicate the microorganism causing the infection, so that the treatment can be applied.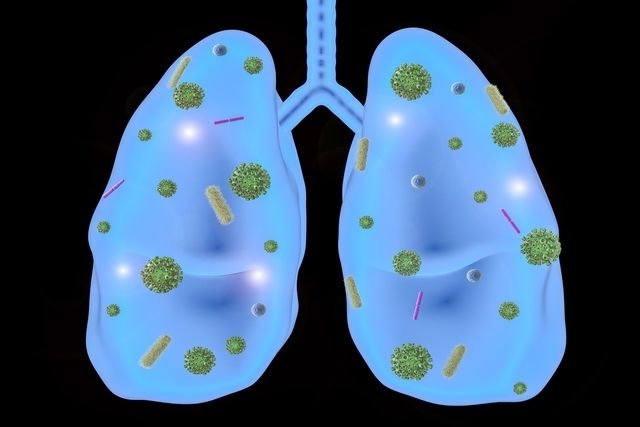 Main symptoms
The initial symptoms of lung infection can be confused with the symptoms of the flu, common cold and even otitis, as there can be sore throat and pain in the ear.However, if the symptoms are accompanied by persistent fever, it can be an indicator that there is a pulmonary infection, whose main symptoms are:
Dry or secreted cough;

High and persistent fever;

Loss of appetite;

Headache;

Chest pain;

Pain in the back;

Difficulty breathing;

Rapid and superficial breathing;

Runny nose.
In the presence of these symptoms, it is important to consult a general practitioner or pulmonologist to diagnose pulmonary infection through auscultation, blood test, chest x-ray and sputum analysis to identify the causative agent of the infection. See what the color of the phlegm means .
Treatment for lung infection
Treatment for lung infection is usually done with rest, hydration, ingestion of antibiotics for 7 to 14 days. Sometimes, medications can also be used to decrease pain and fever. 
Respiratory physiotherapy is especially indicated for elderly people who tend to be bedridden and for hospitalized individuals, with the aim of helping to eliminate secretions.