That's right. The Kansas City Royals left fielder Alex Gordon is teaming with Papa John's to help fight cancer in support of the Alex's Lemonade Stand Foundation(ALSF), two pizzas at a time.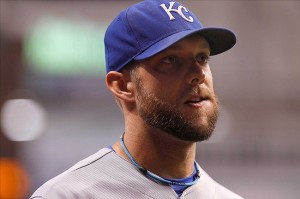 Alex's Lemonade Stand Foundation, a non-profit organization which strives toward curing all kids with cancer, Gordon, and Papa John's will be teammates for the rest of the 2013 regular baseball season. For the remaining three months, participating Papa John's in Kansas and Missouri will feature the Alex Gordon Double Deal – 2 medium, 2-toppings for $5.99. Fifty cents from each Alex Gordon Double Deal sale will go to Alex's Lemonade Stand Foundation in an effort to wipe out children's cancer.
Gordon has been involved with ALSF for eight years, attending events and spreading awareness of the good work ALSF does. He also has appeared in a Public Service Announcement for the Foundation. In 2012, he got Aramak and the Royals involved so that a portion of the frozen lemonade sales at Kauffman Stadium went to ALSF, a project that resulted in a $10,000 donation to the cause.
"Each year we have seen Alex Gordon's commitment and dedication to the cause grow, only further reminding us of someone else named Alex, our daughter and Foundation creator Alexandra 'Alex' Scott," said Liz Scott, who is continuing to fulfill her daughter's vision as the Co-Executive Director of Alex's Lemonade Stand Foundation. "The Foundation has been thrilled to have Alex's continuing support in the fight against childhood cancer,"
Gordon was nominated for the annual, prestigious Roberto Clemente Award in 2012 for his charitable efforts with Alex's Lemonade Stand Foundation.
Gordon brings local name recognition immediately to the already well known Papa John's brand name in an effort to further the fund raising for a great cause.
"I can't tell you how happy we are to partner with both Alex Gordon and Alex's Lemonade Stand Foundation," said Lynn McQuillen, Operations Vice President at Papa John's International. "With the help of Alex Gordon's star power we're excited to raise as much money as we can this season for such a great organization. We really believe in what Alex's Lemonade Stand Foundation is doing and want to do what we can to help the fight against childhood cancer."
To participate, order pizzas on-line at PapaJohns.com and enter the promo code – AGDOUBLE – in the appropriate space. Every donation matters and you get to fill up on pizza as a reward.What could be better?
Please take the time to find out more about Alex's Lemonade Stand Foundation, named for Alexandra "Alex" Scott (1996-2004). Alex, a cancer patient herself, decided in 2000 to run a lemonade stand to help raise money to find a cure. It is a worthy cause, so please visitAlexsLemonade.org to learn more about this Foundation's worthy, but lengthy, fight against childhood cancer, or how to make a donation to the Foundation.
As Royals fans already know, as good as Alex Gordon is between the lines, with his two Gold Gloves, he is even a better person off the field, dedicating time, money, and his good name in worthy endeavors such as this promotion with Papa John's and Alex's Lemonade Stand Foundation. Not only does Gordon make the Royals a better team, but his contributions to his community are praiseworthy as well.
Keep it up, Alex, on and off the field!