Relay for Life hailed best ever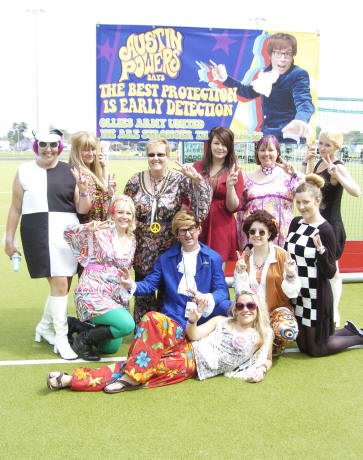 ORGANISERS of the Evesham Relay for Life have hailed this year's event as the best ever.
More than 500 people took part in the 24-hour fund-raising relay on Saturday and Sunday (June 29 and 30) as teams battled it out and joined in the fun at Evesham High School.
The annual event raised at least £40,000 for Cancer Research UK with more expected to be collected before the final sum is announced next month.
New to the event this year was the lap of honour for carers which paid tribute to the work of those who have supported people or loved ones suffering from cancer.
As per tradition, nightfall saw the event's candle of hope ceremony take place where candles were lit in memory of loved ones lost to cancer.
Away from the track there were plenty of activities, stalls and live entertainment to keep the hundreds of people who attended entertained.
Live music was performed by Vince Freeman – one of the star's from last year's BBC talent show The Voice and local band I am Ryan.
Lynn Williams, survivorship chair for the Evesham Relay for Life, said it had been a huge success.
"The Evesham Relay for Life event has been going for six years now and I think this was one of our best," she said.
"The feedback we have received has been tremendous.
"Through experience I think it gets better organised each year and to have had the Cancer Research UK team come and film parts of the relay for one of their promotional videos was fantastic."
Donations can still be made by visiting www.relayforlifeevesham.info
**Medals awarded on the day:
Best dressed tent: 1st prize Poppins Sweets, runner-up Smarty Pants Board the Hogwarts Express.
Fancy Dress: 1st prize Boozers To Infinity and Beyond, runner-up Ollie's Army Goes Groovy Baby.
Best Banner: 1st prize Poppins Sweets, runner-up Boozers To Infinity and Beyond.