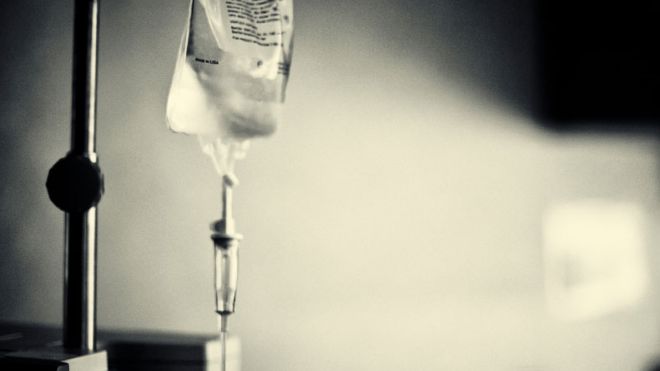 Diagnosed with advanced lung cancer over a year ago, Gabe Tartaglia was loath to undergo the kind of harsh chemotherapy that had devastated his sister before her death three years earlier from pancreatic cancer.
He decided to enter a clinical trial for a new drug designed to trigger the immune system to fight cancer. The results were better than anyone expected.
"Everything has shrunk," said the 62-year-old contractor from Wolcott, Connecticut, who still goes for treatment every two weeks and has regular scans to keep tabs on his progress. "Some of the tumors you can't even see."
Just a few years ago, nobody believed it was possible to harness the immune system to respond to cancer, but drugs like nivolumab, the experimental Bristol-Myers drug Tartaglia receives, are showing promise, even in some patients who have never tried any other treatments.
The drugs will be a main focus of this year's American Society of Clinical Oncology five-day meeting in Chicago beginning on May 31. Much of the attention will be trained on agents that disable a protein called programmed death 1, or PD-1, that enables tumors to evade the immune system.
In addition to nivolumab, experimental drugs in the class include Merck's lambrolizumab and Roche's MPDL3280A, which work by blocking a partner protein known as PD-L1 (the L is for ligand). PD-L1 in turn works within cancer cells to shut down the immune response.
Analysts and investors will be parsing the ASCO data for clues to the market potential for the drugs, which are expected to generate billions of dollars in annual sales. Nivolumab alone is forecast to have sales of $1.2 billion in 2017, according to Wall Street analysts tracked by Thomson Reuters Pharma.
'I GET TO COME HOME AND EAT'
Part of the excitement comes from a Phase 1 study last year of nivolumab, which showed lasting response rates among 20 percent to 30 percent of a group of patients with multiple cancers, including lung cancer, a leading cause of cancer death that so far has shown limited response to immune system therapies.
The trials are still in the early stages. Researchers are working to understand why most patients do not respond and are exploring combining immunotherapies with other treatments.
Aside from the nuisance of frequent blood draws, Tartaglia has had few complaints. "The best part is, I get to come home and eat. I'm all set. Other people are throwing up," he said of patients at Yale Cancer Center in New Haven who are still getting conventional chemotherapy.
Normally, experimental cancer drugs are only used in patients who fail other treatments, said Dr Scott Gettinger, Tartaglia's doctor and an associate professor of medical oncology at the center.
"Now we are starting to use immunotherapy drugs as first-line treatments … I know what first-line chemotherapy can do for lung cancer, and it's not great."
Patients with non-small-cell lung cancer, the most common form of lung cancer, who are treated with the current standard of care - chemo and Roche's Avastin - have a median survival of about a year, Gettinger said, noting that some of his patients have been on nivolumab for more than three years.
"We haven't really realized the potential of this therapy," he said. "As we learn how to use this drug, we are going to see higher response rates."
Another of Gettinger's patients, 68-year-old Bruce Leonard, tried chemotherapy, but his lung cancer returned after two years, prompting a decision to enter the nivolumab study. "I felt at the time that by just doing chemo again, at best I would see the same result," the retired commodity buyer said.
"About two months after I started (the trial), there was a 30 percent improvement … and it has gotten progressively better, to the point that with my last scan they found absolutely nothing."
Many patients do not respond to the treatments, but for those who do, the responses have been extraordinary; some patients have lived for years. Yervoy, Bristol-Myers' breakthrough melanoma treatment, only benefits about 10 to 15 percent of patients. Newer agents, such as nivolumab, have shown response rates ranging from 20 percent to 40 percent.
A small study released earlier this month looking at a combination of the two drugs showed 53 percent of patients had their tumors shrink by at least half after 12 weeks. In 18 percent of patients on the dual therapy, tumors were no longer detectable.
Bristol-Myers has three late-stage clinical trials of nivolumab in melanoma, two late-stage trials in lung cancer and one in kidney cancer.
Last November, interim results from an early-phase trial of Merck's lambrolizumab in patients with advanced melanoma showed that it shrank tumors in 51 percent of patients after 12 weeks, compared with a typical response rate of about 5 percent for similar patients given conventional treatment.
Merck plans to present an update of this study on June 2 at the ASCO meeting. The company also is studying its anti-PD-1 drug in so-called triple-negative breast cancer, a hard-to-treat form of the disease, as well as head and neck cancer, bladder cancer and lung cancer.
Last month, lambrolizumab won designation from the U.S. Food and Drug Administration as a breakthrough therapy, which could speed its approval.
"It's clear now that these medicines do have activity across a broader spectrum of tumors, and they seem to be remarkably potent in very challenging clinical oncology settings," said Dr Gary Gilliland, a senior vice president who heads the oncology franchise at Merck Research Labs.
In April, Roche reported results of a small safety study of its anti-PD-L1 drug MPDL3280A that showed anti-tumor activity against a variety of cancers including lung, kidney, colon and gastric cancers. Roche plans to start a Phase III study in lung-cancer patients.
The findings are driving enthusiasm for immunotherapies.
"It tells us these are poised to be the most important agents in oncology," said Dr Antoni Ribas of the University of California Los Angeles' Jonsson Comprehensive Cancer Center.
Citigroup research analyst Andrew Baum expects immunotherapies to form the backbone of treatments for up to 60 percent of cancers over the next decade, up from less than 3 percent today, transforming the treatment of cancer from a desperate struggle with death into a chronic disease, in which treatments keep patients alive for years. Baum estimates that would generate annual sales of $35 billion.
"The current explosion in all ongoing approaches ... to utilize the immune system to seek and destroy cancer cells marks a watershed, analogous to the impact of HIV drugs transforming life expectancy in (patients infected with) HIV," Baum said in a recent note to investors.
YEARS, NOT MONTHS
Doctors have been trying for decades to get the immune system to fight cancer with limited, sporadic success. But the disease has developed wily defenses that camouflage tumor cells.
"The tide really turned in 2010 with the first presentation of pivotal data about ipilimumab," said Dr Jedd Wolchok of Memorial Sloan Kettering Cancer Center of the drug now sold as Yervoy.
In 2011 ipilimumab became the first immunotherapy drug to help extend the lives of patients with advanced melanoma.
"We're very pleased that Yervoy prolongs survival in one out of five individuals, but there is still room for growth," said Michael Giordano, senior vice president of global development for oncology and immunology at Bristol-Myers.
"Our goal here is to have very long-term durable responses. We're not just trying to increase the patient's disease-free survival for a few months," said Nils Lonberg, senior vice president of discovery biologics at Bristol-Myers.
Lonberg envisions a day when immunotherapy will be as important a tool for oncologists as surgery, radiation and chemotherapy.
Wolchok says the promise for immunotherapies is treatment responses that last. "The immune system is a dynamic organ. It remembers things," he said.
source : http://www.foxnews.com/health/2013/05/31/immunotherapy-is-not-just-for-melanoma-anymore/