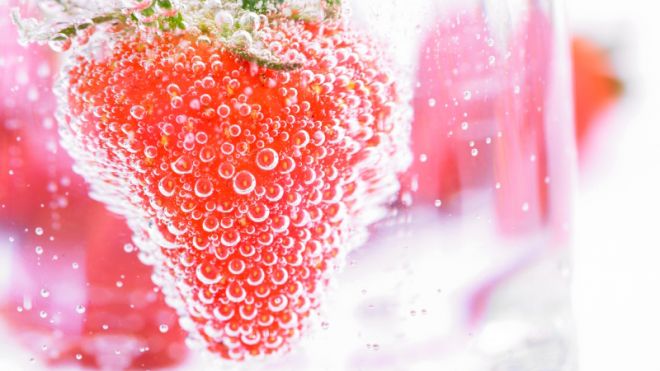 The next time you want a drink of water, instead of going to the faucet or the refrigerator dispenser, try looking in your crisper drawer. Unless you're a bachelor with nothing in the drawer but a dried out apple and a wilted lettuce leaf, I'm betting you've got the secret to delicious tasting water right there in your refrigerator.
I'm sure you've heard a thousand times that you need to drink more water.  So I'm not going to tell you again. I'm just going to ask one question.  
Why aren't you doing it?
Your body needs water to be healthy. Your skin will feel softer, and you will look younger if you drink more water. Soda, coffee and tea and all those other chemical-filled drinks just aren't giving your body the water it craves.  
As a health advocate, I have to tell you that you need to try harder to find water that you like to drink – and that's where your crisper drawer comes in.
You can make a huge variety of delicious flavored waters just by adding some of your favorite fruits, vegetables or herbs.  I got my inspiration from the website 52 Kitchen Adventures.
The author lists 50 of her favorite flavor combinations, including things like lemon and lavender, watermelon and mint, cucumber and lime or papaya and mango.  It's easy to do.  Just wash your produce carefully, cut it up and add it to your water.  If you use herbs, rub the fresh leaves between your hands to bruise them before adding them to the water.
Depending on what you include, you may want to pour it through a filter to remove the small particles before you drink it. A fine mesh strainer for loose tea or a paper coffee filter will work great for this.
Try out different flavors by making one glass at a time or mix up a whole pitcher and you'll be set for the day. If you just can't wait to try it, you can drink it as soon as you put it all together. But to get the most flavor, you'll want to let it sit in the refrigerator for a couple of hours.
Just remember, this is fresh produce, so if you leave the fruit in the water for more than a day or two, the water may change color and start to taste bitter.  That's a good sign it's time to dump that batch and start over.
My best suggestion is to mix up as much as you think you can drink in 24 hours.  If you get to the end of the day and have some left over, strain out the fruit and freeze it into ice cubes for tomorrow.
If you want to jump-start a cold pitcher of water, try using frozen mixed fruit or berries.  That way the fruit will flavor and chill the water at the same time.  
This can also be a great way to get your kids started on a healthier path.  Let them choose their favorite fruit for their own special blend, or hold a family contest to see who can come up with the best flavor.  If you have the space, let everyone create their own mix then judge which flavor was the family favorite by seeing which flavor is gone first.
Even if the kids guzzle their own creations to win, you'll know they are drinking the healthy water they need to stay hydrated. And hopefully you'll all be forming a water-drinking habit that will last for the rest of your lives.
So what's your favorite way to flavor your water?  Visit EmpowHER to share your ideas under the "wellness" category.
Michelle King Robson (pronounced robe-son) is one of the nation's leading women's health and wellness advocates. She is the Founder, Chairperson and CEO of EmpowHER, one of the fastest-growing and largest social health companies dedicated exclusively to women's health and wellness. & In 2011 EmpowHER reached more than 60 million women onsite and through syndication expects to reach more than 250 million in 2012.
source : http://www.foxnews.com/health/2013/06/03/tired-water-mix-your-own-fresh-flavors/