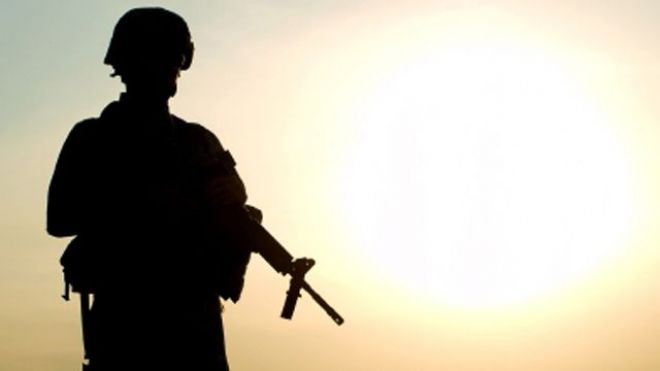 New research has revealed that soldiers who experienced multiple concussions during active service are much more likely to have suicidal thoughts than those who sustained just one injury or never had a concussion, the Los Angeles Times reported.
The study relates to two disturbing trends U.S. military has experienced over the last decade: an increase in suicides and an increase in concussions.  In 2012, the Army experienced a record 324 suicides, exceeding the number of combat deaths in Afghanistan for that year. And numerous roadside bombs have caused thousands of military personnel to suffer from damaging concussions, also known as mild traumatic brain injury (TBI).  
Many studies have speculated that these growing number of concussions may lead to an increase in military suicides, and this new paper, published in the journal JAMA Psychiatry, further highlights that relationship.  
Craig Bryan, the study's lead author and an Air Force psychologist who served in Iraq in 2009, analyzed 161 military subjects, most of whom were men serving in the Army.  The subjects had been referred to Bryan for suspected concussions and were subsequently questioned about their history of head trauma, depression, PTSD and suicidal tendencies.
Among the 85 subjects who had suffered two or more concussions, 12 percent reported they had considered suicide.  However, of the 58 subjects who had experienced only one concussion, just 3 percent had thought about suicide. None of the remaining 18 subjects, who had never experience a concussion, reported any suicidal thoughts.
"All of a sudden the likelihood of being suicidal increased dramatically once you had the second head injury," Bryan, now head of research at the University of Utah's National Center for Veterans Studies, told the Los Angeles Times.
Both depression and post-traumatic stress disorder (PTSD) were controlled for in the study, meaning TBI is potentially a significant component of suicides.
While researchers do not fully understand why TBI contributes to suicide, it is possible that mild TBI can impair problem-solving skills and the ability to fit in socially, leading doctors to speculate that these impairments may lead to suicidal ideation.
Bryan also noted that it's possible another factor is causing the two trends – impulsiveness.  The trait is a well-known risk factor for suicide, and impulsiveness can also increase the likelihood of suffering from a concussion, Bryan said.
Overall, Bryan said the topic needs further research, as various studies involving football, ice hockey and other contact sports have also shown a similar relationship between TBI and suicidal behavior.
Click for more from the Los Angeles Times.
source : http://www.foxnews.com/health/2013/05/16/multiple-concussions-may-be-causing-increase-in-military-suicides-study/