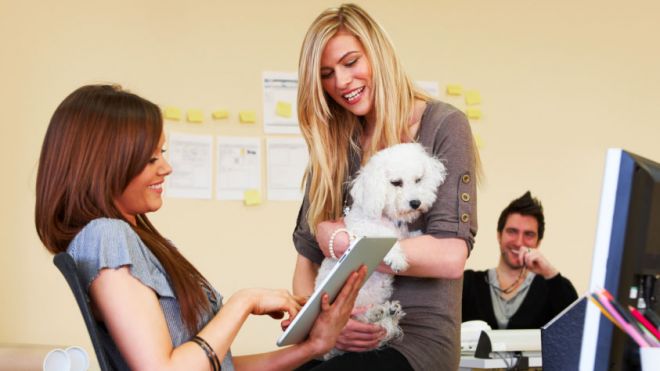 Imagine having man's best friend—your pooch—sleeping at your feet while you're crunching numbers at work, lifting his furry chin for a scratch when your stress starts to rise, or nudging you for a fast game of fetch in the conference room. Well, companies like Zynga, Amazon, Ben & Jerry's, Clif bar and Google and even the U.S. Congress allow dogs at work. Why? Executives are well aware of the stress-reducing and team-building benefits to employees when they have their faithful companions by their desk chair side.
These benefits are not just wishful thinking among dog lovers. A study in the International Journal of Workplace Health Management found that stress declined over the course of a day in employees who brought their dog to work, while it rose for dog owners who left their pups at home and for non dog-owners. Though it was a small study, there's plenty of research showing that having a pet or just petting a dog for 15 minutes reduces stress.
There are other benefits as well:
• Having dogs in the office can bring co-workers together and enhance social interaction.
• Studies show that dogs in the workplace have a positive effect on employee, business and organizational health.
• You'll take more mini-breaks to interact with your dog. These are great for reducing stress and more stress-busting than browsing the web for your mini-break.
• Your doggie needs to be walked, which gets you off your butt and out in the fresh air once or twice a day.
The downside is that you may have co-workers who are allergic or just not big fans of dogs. They may even feel ostracized by not being part of the dog crowd. Some companies that allow dogs at work require employees to register their dogs, filling out a form about their health and temperament, to insure that their dog won't hurt anyone or spread fleas through the office. At Softchoice, a New York City-based technology service provider, each dog owner has to prove to a "Dog Committee" that their puppy is office-friendly. The committee has a three-strike system for dogs that misbehave.
If you want to give it a go, tell your boss about Take Your Dog to Work Day on June 21st. Here are some ground rules from the TYDTWD website:
1) Check with management and co-workers to see if anyone is allergic, afraid of or opposed to you bringing your dog to work for TYDTWD.
2) Dog-proof your work space. Remove poisonous plants, hide electrical cords and wires, and secure toxic items such as correction fluid, permanent markers, etc.
3) Give your dog a bath before he goes to work with you.
4) Don't bring an aggressive or overly shy dog to work.
5) Prepare a doggie bag with bowls, food, a leash and clean up bags.
6) Avoid forcing co-workers to interact with your dog and don't get angry with your colleagues who just aren't into Fluffy.
Laurie Tarkan is an award-winning health journalist whose work appears in the New York Times, among other national magazines and websites. She has authored several health books, including "Perfect Hormone Balance for Fertility." Follow her on Twitter and Facebook.
source : http://www.foxnews.com/health/2013/06/18/perks-bringing-your-pet-to-work/