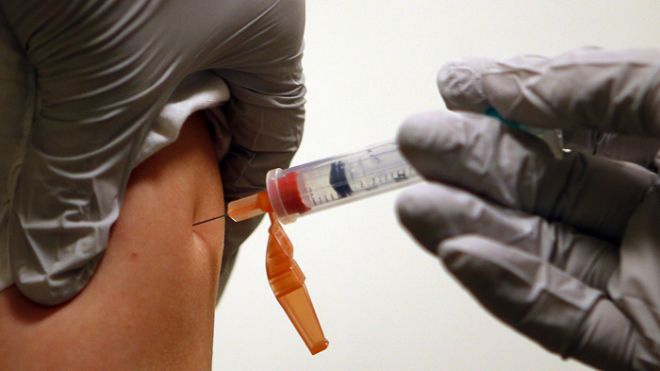 A newer version of the whooping cough vaccine doesn't protect kids as well as the original, which was phased out in the 1990s because of safety concerns, according to a new study.
During a 2010-2011 outbreak of whooping cough in California, researchers found that youth who had been vaccinated with the newer, so called acellular vaccine were six times more likely to catch whooping cough than those who had received a series of the older whole-cell vaccine.
"This is an ongoing saga," said Dr. H. Cody Meissner, a pediatric infectious diseases specialist from Tufts University School of Medicine in Boston.
The rate of whooping cough, or pertussis, has been climbing in recent years, he said - to the point where "we're worried about losing control of pertussis in the United States."
The pertussis vaccine is given in combination with vaccines for diphtheria and tetanus.
Originally the shot contained whole pertussis bacteria, which triggered reactions in some babies - including prolonged crying, fever and a "shock-like state," said Meissner, who wasn't involved in the new research.
So in the 1990s, the U.S. switched over to an acellular version of the vaccine, which has reduced the rate of side effects.
"But the price we've paid to get more safety is that we have less effectiveness," Meissner told Reuters Health. "It doesn't protect as well against pertussis."
The U.S. Centers for Disease Control and Prevention recommends four doses of the diphtheria, tetanus and pertussis vaccine (DTaP) be given to babies between two and 18 months, and a fifth dose by age six. A booster was recently added to the vaccine schedule for 11- to 12-year-olds.
For the new study, researchers from the Kaiser Permanente Northern California health system compared the vaccination history of 138 teenagers and preteens who tested positive for whooping cough and about 55,000 who did not during the state's 2010-2011 outbreak.
Over the course of the outbreak, 78 out of every 100,000 adolescents were infected per year.
Almost all of the kids had received the newer acellular vaccine as their fifth DTaP dose. But Dr. Nicola Klein and her colleagues found that teens who'd been vaccinated with the acellular version for each of their first four doses as well were six times more likely to contract whooping cough than those who'd received four doses of the whole-cell vaccine.
Each extra acellular rather than whole-cell dose increased a child's risk of later developing whooping cough by about 40 percent, the researchers reported Monday in Pediatrics.
Klein said there seem to be some differences in the initial immune response to the whole-cell vaccine versus the acellular vaccine, which may persist as children get older. Her team's study, she said, suggests there needs to be more of a focus on developing a third pertussis vaccine.
But any new shot for whooping cough that could address both safety and effectiveness concerns is still years away, Meissner said.
"So now we're confronted with this difficult problem," he said.
"It's very hard to recommend a vaccine that is known to be associated with more side effects than another vaccine that's safer, even though the first vaccine gives better protection. It's a dilemma."
The findings do not mean parents shouldn't get their children fully vaccinated against pertussis, the researchers agreed.
"In the short run, we have to keep vaccinating kids on the recommended schedule because that's definitely the best way to protect kids," Klein told Reuters Health.
"The acellular vaccine does work, it just doesn't last as long as we hoped," she said. "It's the best tool we have right now to protect against pertussis."
source : http://www.foxnews.com/health/2013/05/20/newer-whooping-cough-vaccine-not-as-protective/