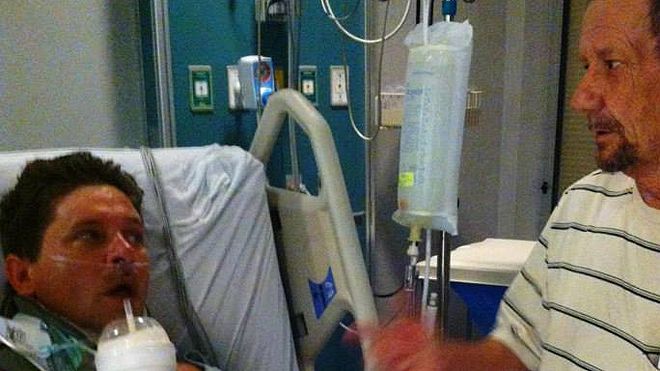 Ricky Robinson wants one thing for Father's Day.
He wants to see his heroic, selfless son walk again.
Robinson said his stepson, Michael Patterson, 43, saw his life forever changed on June 8 when he leapt into the swift-moving Euharlee Creek along the Silver Comet Trail in Rockmart, Ga., to save Javea Jones, a 4-year-old girl whom he had never met. Jones survived, but Patterson severed his spine after hitting the shallow creek bed, leaving him paralyzed from the shoulders down. He is also suffering from pneumonia in both lungs.
"He is an angel, a 100 percent hero and an angel," Robinson told FoxNews.com on Friday. "It's going to take time, but Michael is a fighter, so yeah, he will walk again one day."
"He is an angel, a 100 percent hero and an angel. It's going to take time, but Michael is a fighter, so yeah, he will walk again one day."
- Ricky Robinson, stepfather
Patterson, who recently started a contracting job, has no health insurance and is now facing thousands of dollars in medical and rehabilitative care. Relatives have created a trust for donations to help offset those costs and "thousands" of dollars have already been received, Robinson said.
"They really have been pouring in," he said. "We never knew how many friends Michael really did have until this happened."
Patterson's 9-year-old son, Michael Cole Patterson, witnessed the accident and is so distraught that he hasn't fully grasped the magnitude of his father's injuries.
"He really hasn't comprehended it all yet," Robinson said. "But he loves his Daddy 100 percent."
Patterson on Friday was scheduled to undergo surgery to alleviate breathing problems at Redmond Regional Medical Center in Rome, Ga. He was surrounded by relatives prior to the surgery, Robinson said.
"Right now they got him sedated real heavy," he said. "He can't speak, but he really tries. He's a real fighter."
Robinson said he was "not a bit" surprised that his stepson sacrificed his own well-being to save a stranger. Just two weeks earlier, Patterson rescued a trucker whose tanker overturned on State Route 278, pulling the man from his rig before it burst into flames.
"Like I said, he's an angel," Robinson said. "He's always had a big heart. He loves life and people."
Patterson's tragic accident is not the only life-changing event currently plaguing his family. Robinson, who is suffering from throat cancer, is due to undergo surgery soon to remove his vocal box and tongue. Patterson is also in the process of divorcing his wife, Robinson said.
A Facebook page called "Friends of Mike Patterson" has been created in his honor, providing direct links for donations and updates on Patterson's condition. As of midday Friday, it had more than 42,000 supporters.
"God bless you for putting yourself in [harm's] way to try to save a child," one posting read. "I am thankful there are people like you in the world who would risk themselves to save my child."
Vicki Jones, Patterson's mother, told FoxNews.com that the show of support has been nothing short of overwhelming.
"I'm grateful beyond belief because this is going to be the rest of Mike's life," Jones said. "I'm just thankful. I did not realize … I thought the world had gotten cold and cruel, but I have learned a lesson from my son. I have opened my eyes. In this world, there is so much good, so many people with huge hearts and thing I didn't even know existed anymore."
And despite the fact that her son — a man whose livelihood revolved around his hands — was unable to move both extremities as he suffered from a high fever on Friday, Jones saw some light amid the darkness.
"There's so many lessons here," she said. "I now see why good people hide. They protect themselves, but they are angels."
Asked if his stepson would make the same decision again if seeing someone in desperate need, Robinson did not hesitate.
"In a heartbeat," he said. "But we'd tell him to jump, not dive. Right now we're just praying."
Click here to donate to Patterson or mail monies to River City Bank, Mike Patterson Donation Fund, 228 N. 2nd Ave SW, Rome, GA 30165.
source : http://www.foxnews.com/us/2013/06/14/stepfather-vows-son-will-walk-again-after-saving-4-year-old-girl-from-georgia/