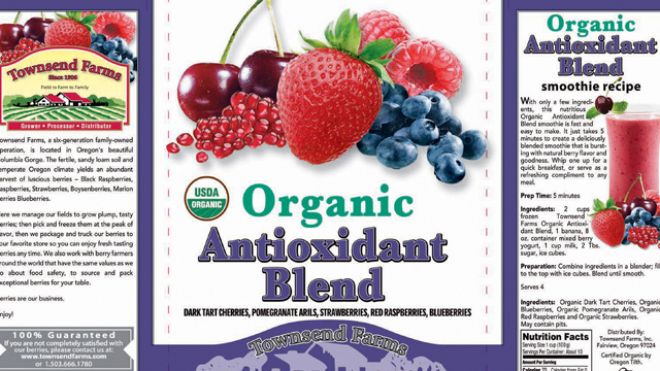 Geoff Soza was celebrating his 30th wedding anniversary in Yellowstone National Park when the 64-year-old man learned the hard way that his seemingly healthy breakfast habit of mixing thawed berries with Greek yogurt had exposed him to a national outbreak of hepatitis A.
Dozens of illnesses have been reported, and federal officials have recalled a frozen berry mix sold by Costco and Harris Teeter in seven states.
Soza, a semi-retired contractor, was resting at his Encinitas home this week after an ordeal that threatened to put him on a liver transplant list.
He hadn't felt right in the weeks before leaving for Yellowstone on May 29 -- but his lack of appetite and disorientation didn't merit canceling the trip.
"I thought, `I'm getting something. I'm coming down with something' and I thought I'd just ride it out and live with it," he said.
His wife, Rita, said he doesn't complain much as "a very active, tough kind of person," but he seemed lethargic when they flew to Salt Lake City and rented a car to drive to the park.
On the second night of their trip, the Sozas called paramedics who examined Geoff and recommended he visit St. John's Medical Center. They didn't think a medical evacuation was necessary.
They thought they could wait until morning, but after a few hours, Rita drove three hours on dark rural roads to Jackson, Wyo.
Doctors initially thought Geoff Soza's gall bladder needed to be removed after finding signs of inflammation and stones.
But general surgeon Dr. Michael Rosenberg halted the surgery, scheduled for June 1, because of Soza's elevated liver enzymes.
After more tests, Soza was diagnosed with hepatitis A, Rosenberg said.
Soza could have suffered liver damage or excessive bleeding if the surgery had gone ahead as planned, Rosenberg said.
Doctors told Soza they could treat him, but if it didn't go well, they would have him taken to a regional liver transplant center in Utah.
"That's when it really struck me, like, `Really? Liver transplant?' " Geoff Soza said.
Luckily, such measures are rarely, if ever, necessary for hepatitis A, Rosenberg said.
Hepatitis A can be spread by the ingestion of a microscopic amount of fecal matter from an infected person, typically a food worker who hasn't washed their hands.
Symptoms include fever, fatigue, loss of appetite, abdominal pain and jaundice -- a yellowing of the skin or eyes. There is no specific treatment. The ill can feel sick for weeks -- or up to six months -- as their body heals itself.
Healthy and health-conscious, the Sozas always inspect their foods and select organic produce. They were surprised to learn that some of the fruit from Townsend Farms of Fairview, Ore., was from outside the United States.
The Centers for Disease Control said the recalled berries included products from Argentina, Turkey and Chile, in addition to the United States.
But the packaging convinced the Sozas the fruit was all-American because it bears the slogans "Grower. Processor. Distributor." and "Field to Farm to Family, since 1906."
"It was our distinct impression that these are raised under U.S. standards, especially organic food standards," Rita Soza said.
Geoff Soza said he chose the berries to have for breakfast for about 6 months. The Sozas are fairly adventurous eaters who like to experiment with new foods. Frozen berries were the last thing he thought would make him sick.
"I would have thought it would be from fish or something like that, but not ever from fruit, especially berries," Soza said.
Rita Soza said after she learned of the berries, she was upset by Costco's response, saying she unsuccessfully tried to call the number on her membership card for information -- but she couldn't get a live person on the phone. She returned home to find a message on her answering machine Tuesday.
Costco Vice President for food safety Craig Wilson said the company contacted 240,000 members with information about the outbreak and received more than 10,000 calls over the weekend.
Some of those sickened by the berries have filed lawsuits seeking medical costs and damages, and at least one suit filed in Los Angeles this week seeks class action status. The Sozas say they haven't decided to take legal action.
source : http://www.foxnews.com/health/2013/06/06/california-man-fights-hepatitis-after-eating-tainted-berries/