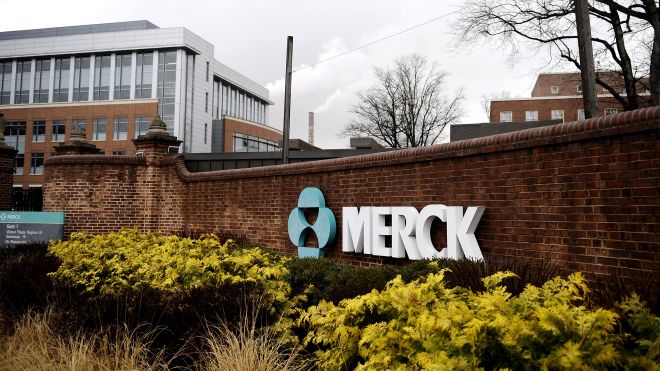 A Merck & Co drug designed to unmask tumor cells and mobilize the immune system into fighting cancer helped shrink tumors in 38 percent of patients with advanced melanoma in an early-stage study, U.S. researchers said on Sunday.
Based on the findings about the drug lambrolizumab, published in the New England Journal of Medicine and presented at the American Society of Clinical Oncology meeting in Chicago, Merck says it will move directly into a late-stage clinical trial, which will start in the third quarter.
"This is a top priority at Merck," Dr. Gary Gilliand, senior vice present and head of oncology at Merck Research Laboratories said in a meeting with investors. "We're going flat out to deliver benefit to patients with this novel mechanism."
The moves may heap pressure on market leader Bristol-Myers Squibb, maker of Yervoy - the only approved immune system drug for the treatment of advanced melanoma, the deadliest form of skin cancer.
Bristol-Myers is conducting three phase-three studies of its own drug called nivolumab in advanced melanoma, and is studying the drug's effect on a range of other cancers, including lung cancer.
Both nivolumab and lambrolizumab are part of a promising new class of drugs that disable programmed death 1 or PD-1, a protein that keeps the immune system from spotting and attacking cancer cells.
"Even though it's (lambrolizumab) the second player in the field and even though it's all early, it impressed me," said Dr. Antoni Ribas of the University of California Los Angeles' Jonsson Comprehensive Cancer Center, the lead author of the study.
Last month, the U.S. Food and Drug Administration deemed the treatment a "breakthrough therapy," a designation FDA cancer drugs chief Dr. Richard Pazdur described as "knock-your-socks-off therapies."
Results of an early-stage study of nivolumab in advanced melanoma released at the cancer meeting showed 31 percent of patients overall responded to different doses of the drug. Among those who took the 3 milligram per kilogram dose, 41 percent of patients responded. The drug response lasted an average of two years, and in many patients the drug kept working even after they stopped taking it.
Analysts expect the drugs to generate billions of dollars in sales. Nivolumab alone is forecast to have sales of $1.2 billion in 2017, according to Wall Street analysts tracked by Thomson Reuters Pharma.
Merck's study
Merck's results are from the first clinical trial of lambrolizumab in advanced melanoma. They are based on analysis of 135 patients with metastatic melanoma who were divided into three groups with different treatment regimens.
Overall, lambrolizumab resulted in 38 percent of patients having confirmed improvement of their cancer across all dose levels given after 12 weeks of treatment. But there was a wide range among doses, with only a 25 percent rate among patients who got the lowest dose and 52 percent among those who got the highest dose. In the highest dose group, 10 percent had a complete response, meaning their tumors could not be detected on scans.
Side effects were generally mild and included fatigue, fevers, skin rash, loss of skin color and muscle weakness. More severe side effects were seen in 13 percent of patients, including inflammation of the lung or kidney and thyroid problems.
"This study is showing the highest rate of durable melanoma responses of any drug we have tested thus far in this cancer, and it is doing it without serious side effects in the great majority of patients," Ribas said.
Merck said it plans to start a late-stage randomized trial of the drug in melanoma and in non-small cell lung cancer in the third quarter of this year.
The company recently started a global, randomized mid-stage study of the drug versus standard chemotherapy in patients whose disease had progressed. And it is studying the drug as a treatment for triple negative breast, metastatic bladder and head and neck cancers.
Researchers at the meeting marveled at responses to new immune system treatments after decades of failed studies among patients with melanoma.
Only about one in five patients respond to Yervoy, approved in 2011 as the first immunotherapy to extend survival in patients with advanced melanoma. Yervoy works by blocking CTLA-4, a different molecule that also keeps the immune system from attacking cancer.
Ribas said he has followed one patient on Yervoy for 12 years now. "She's not supposed to be around, and she's alive and well and melanoma free. That is why we've been doing these immunotherapies," he said.
With Yervoy, Ribas said these types of responses were few and far between. With the new PD-1 drugs, they are much more common, with fewer side effects.
However, an early-stage Bristol-Myers' study released this month showed that 53 percent of patients who got a combination of Yervoy and nivolumab had at least a 50 percent reduction in tumor size, with fewer side effects.
Tim Turnham, executive director of the Melanoma Research Foundation, said combination treatments would make a major difference for patients because they help overcome cancer's "sneaky" ability to evade treatment. But, at this point, he said, "Nobody knows which one is better."
source : http://www.foxnews.com/health/2013/06/03/merck-melanoma-drug-shrinks-tumors-in-38-percent-patients/