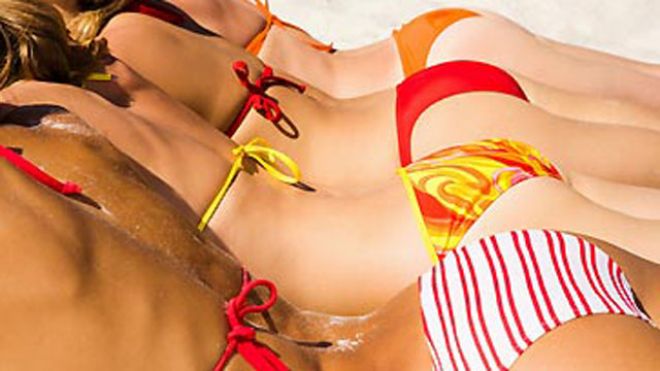 With summer approaching, you might spend time preparing for swimsuit season. Rather than dreading this time of year, here are some tips to begin to practice appreciating your body so you can enjoy the sun.
1.   Accept your weight.
You may think the more you fight your weight, the more you'll succeed in losing weight. This simply isn't true. Accepting doesn't mean not taking steps towards changing your weight, it means not letting your weight hold you back from your life. If you're waiting until you lose weight to apply for jobs or start online dating, your weight is going to weigh you down. Do what you care about now.
2.   Go on a weight-talk diet.
It's tempting to ask your friends if you've lost weight, ask them about what they're doing to lose weight, or discuss together who you think needs to lose weight. There is way more to talk about than weight. When the topic comes up, practice moving the topic to something more fun!
3.   Only visit your scale once a week.
Weight fluctuates within six pounds on any given day depending of what you've had to eat and drink. Rather than checking your weight compulsively and worrying you gained weight after you ate a big meal, only weigh yourself once a week and make it at a set time, like 8 a.m. Monday mornings.
4.   Go shopping.  
If you are in between sizes and your clothes are uncomfortably snug, you will constantly remember you've gained weight and eat to cope with this negative feeling. I've seen a lot of clients feel better and eat better by wearing clothes that fit. Buying clothes your size is not giving up, it's being practical.
5. If you compare, be fair.
It's weirdly tempting to compare yourself to the thinnest person you see or a celebrity you admire. Yet, this is so unfair and sets you up to feel inferior and obsess further. Rather than compare yourself to someone remarkably thin or fit, compare yourself to every eighth person you see. Better yet, don't compare. When you notice you're judging yourself in comparison to someone else, remind yourself that's a judgment and let go.
6. Eat regular meals.
Many people who struggle with obsessing around food get caught in this cycle:
Overeat --> limit what they eat to make up for the indulgence --> feel hungry --> overeat.
Rather than get caught in this cycle of feeling too full then feeling too hungry, eat three meals and two snacks. If you ate too much for breakfast, eat a normal lunch; this will prevent you from skimping on lunch and splurging on dinner.
7. Relax your face when you look in the mirror.
One of the ways to improve your body image and stop engaging in negative thoughts about your appearance is to relax your face and body when you look in the mirror. There's a facial feedback loop and the facial expressions we make solidify how we feel. Research on Botox shows people whose facial muscles are paralyzed experience less intense emotions. One way to relax your face is to ever so slightly lift the upper corners of your lips. If you don't want your daughter to learn to grimace in front of the mirror, become a role model for self-acceptance.
Jennifer Taitz & is a licensed clinical psychologist based in New York City. She is the author of End Emotional Eating: Using Dialectical Behavior Therapy Skills to Cope with Difficult Emotions and Develop Healthy Relationship to Food. Visit her website drjennytaitz.com to learn more.
source : http://www.foxnews.com/health/2013/05/14/7-tips-to-stop-your-summer-weight-obsession/