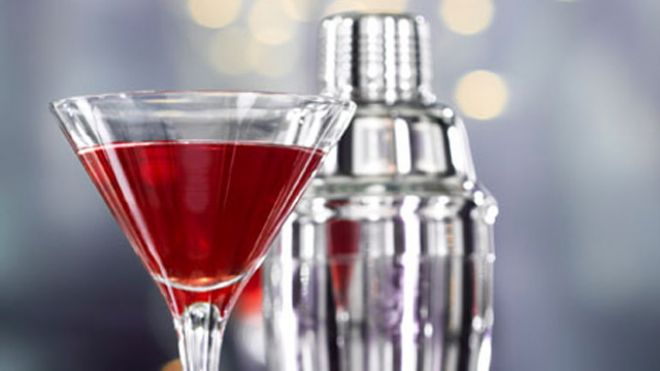 Nothing could be better than a sweet summer drink sipped under a shaded patio or chilling under a beach umbrella. But who wants to worry about those extra calories – that could be up to 500 in fact – when you order a frosty drink from the beach bar.
Most calories from summer cocktails come from the mixers, but you can have one that's just as delicious and ready at the touch of a blender button if you make it yourself. 
Here are fun and more flavorful ways to mix up summer cocktails that are under 100 calories each. Now, I'll toast to that!
Make It Berry Good, Nix the Mixer
Ditch the sugary bottled mixers that don't contain real fruit, and use whole fresh or frozen fruits to blend a drink with real flavor and antioxidant power to boot.  Pair them with a shot of these aromatic spirits (around 46 calories an ounce), which  will boost flavor just as well as those sweet mixers – making you the star at your next party.
St. Germain, an elegant liquor brewed from elderberries, mixed with fresh blended superfruits like blueberries can make an antioxidant cocktail to swoon over.  Ideal for summer brunches, engagement parties, or a drink to impress the ladies with.  Just blend 1/2 cup blueberries with 1 ounce of St. Germain liquor.
Campari is a bitter that hails from Italy, made with a mix of herbs and bitter citrus.  Ideally it is blended with fresh or frozen dark cherries for a blended drink that's rich in anthocyanins (noted to reduce inflammation). Just blend up 1/2 cup fresh or frozen cherries, 2 ice cubes and 1 ounce of campari the night before and store in individual baggies in your freezer.  To take them on the go, simply toss into a beach bag.
Aperol (from Padua, Italy) is an aperitif that has a sweet tart taste of rhubarb and bitter orange, ideal to make a low-cal spritzer or when mixed with fresh, lycopene-rich watermelon juice in this 96 calorie cocktail that tastes like a Jolly Rancher.  Chill in plastic sports bottles in the fridge, then stock your cooler.
Lillet, a French aperitif made from wine and citrus peels or herbs (and also contains quinine), is a great pairing with citrus-flavored cocktails. Grapefruit is my pick, one of the few fruit juices that is low in calories, at only 46 calories per 1/2 cup.  Important: Before you sip grapefruit, check with you doc first if you're on prescription meds. If grapefruit is a go for you, blend 1/2 cup with 4 ice cubes and 1 ounce of Lillet.
Jennifer is a trained chef, certified health coach, and healthy cooking celebrity whose mission is to show families that healthy cooking can be fresh, fun and flavorful. She is the author of several best-selling books.& Visit her website at skinnychef.com.
source : http://www.foxnews.com/health/2013/05/16/fresh-healthy-ways-to-spin-your-summer-cocktails/