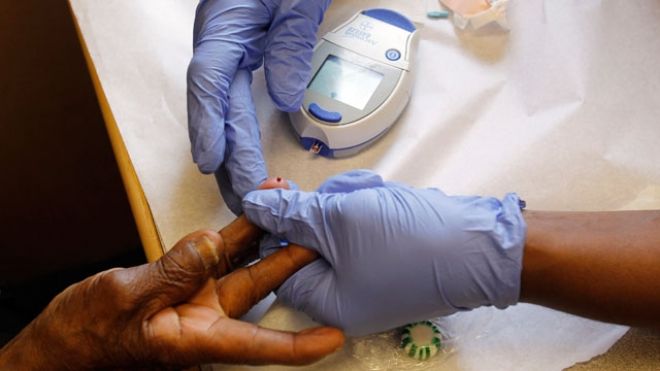 Global drugmakers said on Wednesday they would cooperate with an independent review to address concerns of a potential link between widely used diabetes medicines and pancreatic cancer and other safety problems.
The American Diabetes Association (ADA) this week called for a new evaluation of clinical data on drugs used to control blood sugar for patients with type 2 diabetes. They include Merck & Co's $4 billion a year Januvia franchise, Novo Nordisk's Victoza, and Byetta and Onglyza from Bristol-Myers Squibb Co and AstraZeneca Plc, among others.
"People who are taking these medications, or who may consider taking them, should have the benefit of all that is currently known about their risks and advantages in order to make the best possible decisions about their treatment," Dr. Robert Ratner, ADA's chief scientific and medical officer, said in a statement.
The medicines are called incretin mimetics because they mimic hormones the body produces to stimulate release of insulin, and are from classes of drugs known as GLP-1 receptor agonists and DPP-4 inhibitors. GLP-1 drugs boost insulin production by the pancreas and slow absorption of food. DPP-4 inhibitors block an enzyme the breaks down the GLP-1 peptide in the gut, thereby increasing insulin production.
The U.S. Food and Drug Administration in March said it was studying unconfirmed reports that the drugs cause inflammation of the pancreas and pre-cancerous changes to cells in the pancreas. European health regulators are also studying the issue.
Around the same time, new concerns arose from a small study conducted by a leading diabetes expert, Dr. Peter Butler, from the University of California, Los Angeles.
Butler examined human pancreases from patients who had died of causes unrelated to pancreatic disease and found more pancreas lesions and one cancerous tumor in those who had taken Januvia or Byetta compared with nondiabetics or diabetics who had not taken those medicines.
More than 370 million people are living with diabetes worldwide, with type 2 accounting for 90 percent to 95 percent of the cases, according to the International Diabetes Federation. Without significant lifestyle changes to curb obesity and other causes of diabetes, that number could balloon to as many as 552 million by 2030, the organization projected.
NO FIRM EVIDENCE OF RISK
Bristol-Myers and AstraZeneca issued a joint statement expressing support for the ADA initiative. Merck said it is committed to participating in the ADA effort, and is separately conducting a 14,000-patient heart safety study of Januvia.
Danish drugmaker Novo Nordisk, in an emailed comment, said its studies to assess safety signals of its $1.8 billion a year Victoza do not reveal any evidence of increased risk of pancreatitis or pancreatic cancer.
"As far as the ADA proposal is concerned, this is something that I do support from a conceptual basis," said Alan Moses, Novo's global chief medical officer, in a telephone interview.
"In principle, Novo Nordisk absolutely supports working with the other companies, but the final details depend on what specifically is being proposed," Moses said, adding "it all depends on the credibility of the data that's being evaluated."
The safety concerns are being discussed on Wednesday and Thursday at a workshop conducted by the National Institutes of Health (NIH) and the National Institute of Diabetes and Digestive and Kidney Diseases (NIDDK).
A document outlining the FDA's presentation at the workshop was handed out at the meeting. Attendees quoted it as saying the agency review of trial data on the drugs did not provide enough evidence to say whether there is a link to pancreatitis, and that long-term study would be required to determine any cancer risk. A FDA spokeswoman could not immediately confirm the contents of the document.
"The FDA basically appears to just be saying 'look, there just isn't enough information here to make an informed decision'," said Mark Schoenebaum, a drug industry analyst with ISI Group who was attending to two-day NIH/NIDDK workshop.
"There are no conclusions at this point in time from the meeting and I doubt very much there will be because the science quite frankly is immature about the whole area of pancreatic cancer," said Novo's Moses, who will address the workshop on Thursday. "Everybody agrees that this is an incredibly complex area."
In an interview with Reuters earlier this week Peter Stein, Merck vice president of clinical research for diabetes, expressed full confidence in the safety of Januvia.
During the workshop, Merck said it will present data on the safety profile of Januvia, known chemically as sitagliptin, including an updated analysis of data from more than 14,000 patients from 25 randomized clinical trials.
Merck last month reported a surprising decline in first quarter sales of Januvia, which has been the drugmaker's fastest growing medicine since its 2006 approval. It was not clear if increased competition, safety concerns or other factors led to the 4 percent slip in quarterly sales to $884 million.
source : http://www.foxnews.com/health/2013/06/13/drugmakers-to-cooperate-in-safety-review-diabetes-drugs/